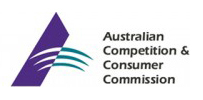 Australian Competition & Consumer Comission
The ACCC promotes competition and fair trade in the market place to benefit consumers, businesses and the
community. It also regulates national infrastructure services. Its primary responsibility is to ensure that individuals and businesses comply with the Commonwealth competition, fair trading and consumer protection laws.
For the ACCC, CTC translates highly confidential documents into English by NAATI certified translators in a short turnaround and following specific templates agreed on start.
Description of Services provided:
NAATI Certified Translation services at a professional level from:
Czech, Dutch, French, German, Indonesian, Italian, Japanese, Korean, Portuguese, Spanish and Thai.
Word Count: 100.000 Words for the financial year 2011 - 2012
Wide variety of documents, strategic communications and meeting minutes.
Additional quality and value added services:
Document Management
An additional requirement was to verify and track that a document had not been previously translated to avoid risk of
work duplication among a large volume of material.
Content Verification
Some material was grandfathered and nested within other documents and this required assessment and tracking; also, again, to reduce duplication and cost.
Express Delivery
When asked by the client some documents were express translated and delivered to the client on tight and very
specific deadlines (within 24 hours).
Turnaround Times:
No document took more than 20 days to be translated.
Handling of documents of additional complexity
When a single document is written on more than one language the translation process needs to make sure the final document is completely in English and certified by each individual NAATI professional translator.
Legal-level Quality Assurance
As much of the material required for court proceedings, additional quality assurance was essential and executed on key reference data including dates, numbers, names and paragraph numbering and cross referencing.
Typesetting and document presentation
The contract included typesetting and specific certification following client templates.
Response to quality questions and issues raised
Throughout the project we delivered responses to queries in under 24 hours and achieved a compliance rate of 98.75% of pages free of errors.